Last Saturday, my daughter turned 7 and we had a fun filled birthday bash. We were expecting around 50 guests which includes a room full of happy children. Most of the food were cooked by myself, the host, as we intended to make the party feel cosy and homely.
If I were to handle all the preparation, cooking and hosting for the party, I would be running like a headless chicken. Thankfully Maideasy offered Event Helper services to help me prepare and host the birthday bash.
On the day before, I booked for a four hour session for the event helper to come and help me prepare to cook and decorate the house for the birthday party. Our daughter picked A Mermaid's Theme as the party's main theme and the house was filled with balloons and mermaids decorations. The event helper, Nizar, was great in helping me prepare the ingredients to make rendang and all the condiments for the party, as well as fill the air of the balloons and hang them in high places. He did a fantastic job (picture as proof), and stayed until the house looked like a mermaid's lair.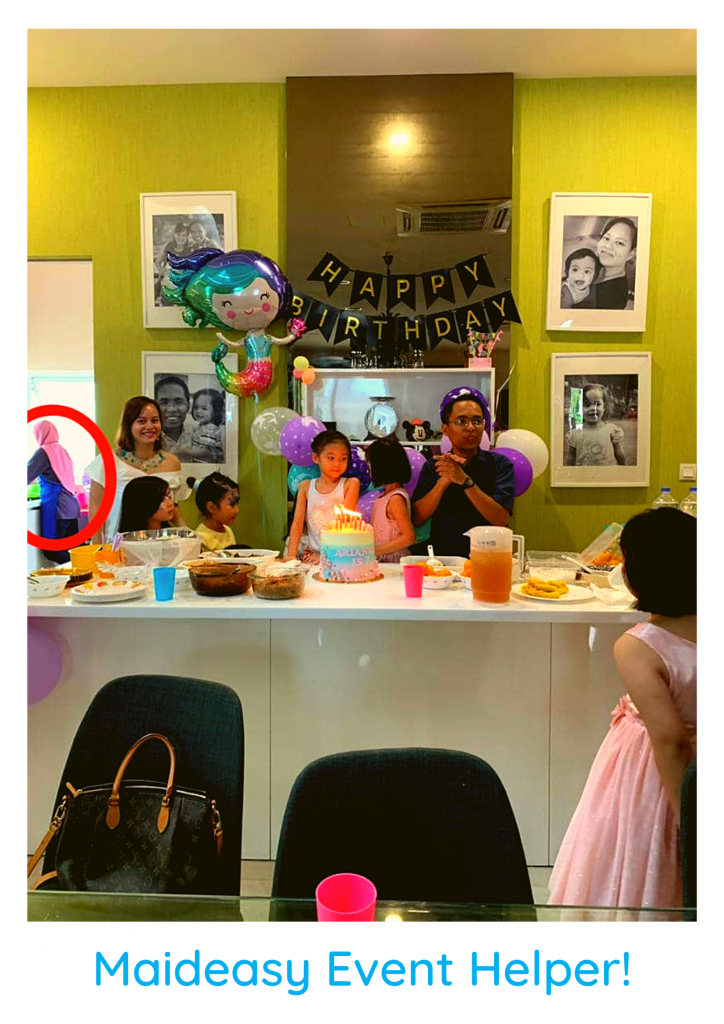 On the day, Kak Zurina came for her 6 hour session to help me host the event. The birthday party was two hours and a half, and she came in earlier to help me prepare the food and arrange the necessary for the party. I didn't have to do much in organising and running the event except for entertaining guests and have conversations with the parents and playing with the kids. During the event, Kak Zurina washed the dishes, made sure the food and drinks were restocked, without having to give much instructions or telling her what to do. When we were casually conversing in the kitchen, she told me she takes a lot of Event jobs as she loves helping out in kenduri's and parties like these.
At the end of the party, Kak Zurina made sure the kitchen and living room is cleaned, throwing away the food, washing the dishes and cups as well as arranging them back in the cabinets.

I was extremely happy for the services of the Event Helpers from Maideasy. Without them, my party would not be a success, and they did a great job helping me. Thank you Maideasy!